Swami Sivananda
Swami Sivananda Saraswati, the great spiritual luminary of the 20th century, was born on the 8th September 1887 at Tirunelveli (Tamil Nadu). From his early childhood he exhibited the gift of divine vision, renunciation, compassion for the poor, and the uncommon gift of sama drishti or equal vision and love for all.
As the desire to serve and help others was foremost in Swami Sivananda's heart, it was natural that he chose to study medicine and later started his medical practice. This inborn spirit of service led him to Malaya where he worked at a rubber estate hospital for seven years. In spite of his extremely busy life, Swami Sivananda was always regular in his daily worship, prayers, yoga asanas and study of sacred scriptures. This ignited his innate spirituality and with a heart purified by selfless service, he had a new vision. In a state of total renunciation, he gave up his practice and all his belongings and came to India in 1922, to live the life of a penniless sadhu. In 1924 he arrived at Rishikesh to live on the banks of Ganga and on 1st June in the same year was initiated into sannyasa by Swami Vishwananda Saraswati. Ganga remained an important feature in the life of Swami Sivananda and he remained beside this sacred river throughout his life.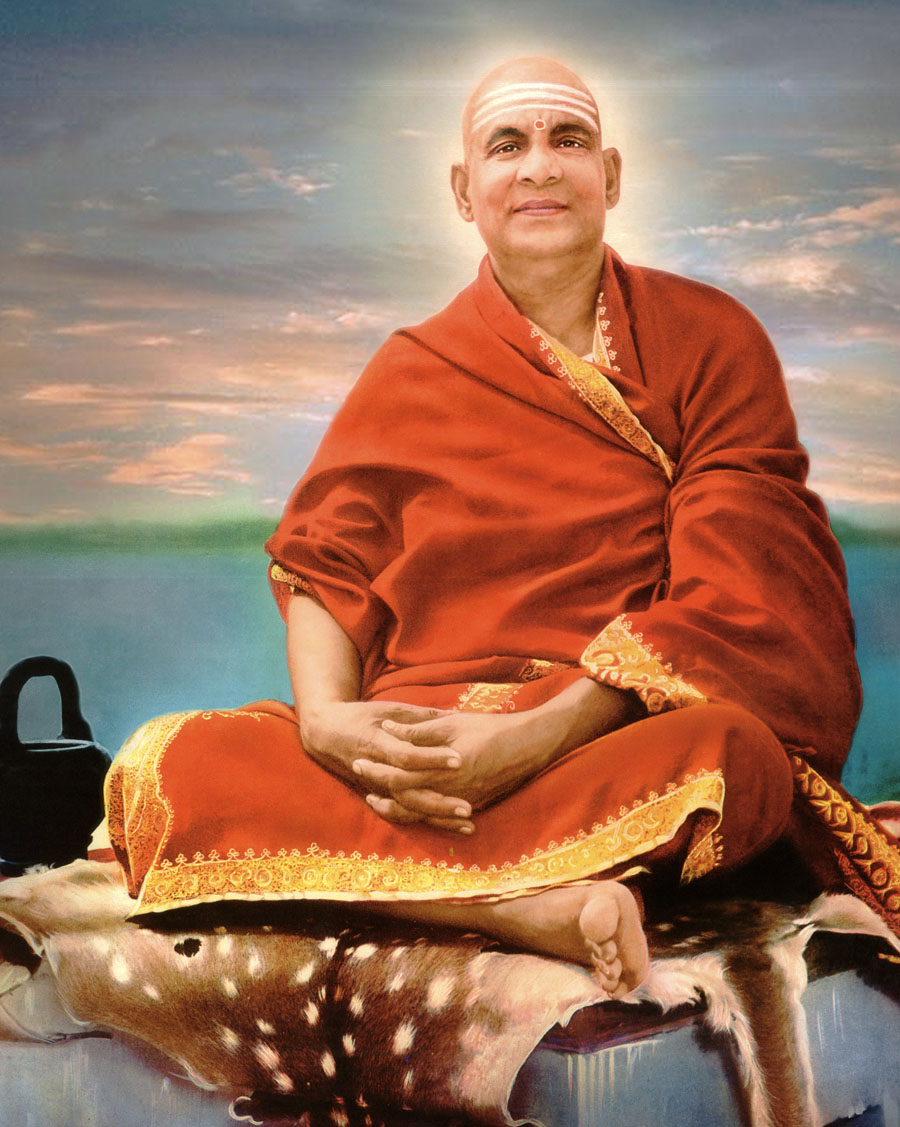 Although, as per the tradition of sannyasa, he lived a life of self-imposed austerity and simplicity, he never neglected selfless service. He started a charitable dispensary to help and serve the poor and needy as he saw this as a worship of God who dwells in each being. From 1927 he started sharing his spiritual experiences through writing articles and books and his divine lustre started influencing people from all over the world. People began to experience that every word he uttered, every sentence he wrote,
was charged with a rare spiritual power. From his small kutir on the banks of the Ganga, Swami Sivananda's influence spread throughout the world and The Divine Life Society was founded in 1936 with aim of worldwide dissemination of spiritual knowledge and service to mankind. It did not take long for seekers to be drawn to his magnetic personality. His tenfold path – Serve, Love, Give, Purify, Meditate, Realise, Be good, Do good, Be kind, Be compassionate, became a road map for spiritual aspirants worldwide. Swami Sivananda never let anyone forget that their spiritual salvation lay in helping and serving others.
Swami Sivananda raised the goal of God-realization before the eyes of the people as the only real purpose for human birth. He acquainted millions with the facts and details of spiritual life and trained many sannyasins of extraordinary calibre through whom his mission is carried on this day. To spread yoga 'from door to door and from shore to shore' was a mission that Swami Sivananda entrusted to one of his brightest disciples, Swami Satyananda, who developed the ancient systems of Tantra and yoga to their highest potential and literally took them to each and every corner of the world. Through his dedicated sannyasins, Swami Sivananda saw the fulfilment of his mission before attaining Mahasamadhi in 1963. To this day and for ages to come, his light spreads far and wide for the spiritual upliftment of humanity.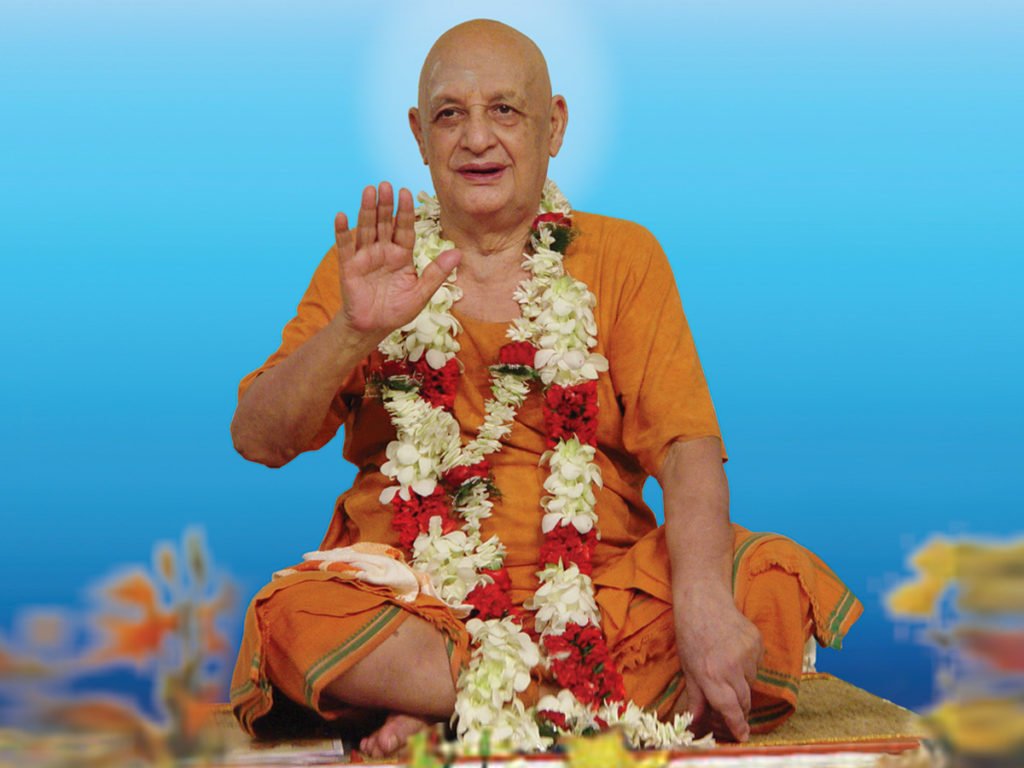 Swami Satyananda Saraswati
Swami Satyananda Saraswati, born at Almora in 1923, was initiated into the Dasnami Order of sannyas by Swami Sivananda Saraswati, on 12th September 1947 at Rishikesh. In 1956, after spending twelve years in guru seva, his Guru sent him out into the world and gave him the mission to "spread yoga from door to door and shore to shore". Although his formal education and spiritual tradition was that of Vedanta, at the command of his Guru the task of disseminating yoga became his movement.
His mission unfolded before him in Bihar where he established the Bihar School of Yoga at Munger in 1963. From then until 1983, Swami Satyananda took yoga to each and every corner of the world, to people of every caste, creed, religion and nationality guiding millions of seekers, establishing centres and ashrams of yoga throughout the world.
His frequent travel took him to Australia, New Zealand, Japan, China, the Philippines, Hong Kong, Malaysia, Thailand, Singapore, USA, England, Ireland, France, Italy, Germany, Switzerland, Denmark, Sweden, Yugoslavia, Poland, Hungary, Bulgaria, Slovenia, Russia, Czechoslovakia, Greece, Saudi Arabia, Kuwait, Bahrain, Dubai, Iraq, Iran, Pakistan, Afghanistan, Colombia, Brazil, Uruguay, Chile, Argentina, Santo Domingo, Puerto Rico, Sudan, Egypt, Kenya, Ghana, Mauritius, Alaska and Iceland. One can easily say that Sri Swamiji hoisted the flag of yoga in every nook and cranny of the world. Well-versed in all religions and scriptures, he incorporated their wisdom with such a natural flair that people of all faiths and nationalities flocked to him. He initiated thousands into mantra and sannyas, sowing in them the seed to live the divine life.
 It can be said that Sri Swamiji was a pioneer in the field of yoga because his presentation had a novelty and freshness. He introduced the practices in such a methodical and simple manner that it became possible for everyone to delve into this valuable and hitherto inaccessible science for their physical, mental, emotional and spiritual development. Yoga Nidra, which was Swami Satyananda's discovery and has become one of the most popular and sought after practices of yoga is but one example of his acumen and penetrating insight into the ancient systems. He has authored over eighty books on yoga and tantra, which, due to their authenticity, are accepted as textbooks in schools and universities throughout the world.
Due to his tremendous zeal and energy in the short span of twenty years Sri Swamiji had fulfilled the mandate of his Guru. By 1983, Bihar School of Yoga was well established and recognized throughout the world as a reputed and authentic centre for learning yoga and the spiritual sciences. More than that, yoga had moved out of the caves of hermits and ascetics into the mainstream of society. In 1983 at the peak of his accomplishment Sri Swamiji renounced all that he had created and departed from Munger, never to return again, returning to his original life as a mendicant, without any personal belonging or assistance from his disciples or the institutions he had founded.
During his travels he stayed at Trayambakeshwar the abode of his ishta devata, the jyotirlingam of Lord Mrityunjaya, during which time his future place and sadhana were revealed to him, according to which, Sri Swamiji came to Rikhia in 1989 and began to live in seclusion in this small village, on the outskirts of Baba Baidyanath Dham at Deoghar, Jharkhand.
After his arrival at Rikhia, he undertook sadhanas that one only reads about in books, such as panchagni and Ashtottar-Shat-Laksh (108 lakh) Mantra purascharana. Here he entered the lifestyle of the paramahansas who do not work for their flock and mission alone but have a universal vision.
The eternal precepts of Vedanta such as atmabhav and atmasakshat became established in him at Rikhia. In that sense Rikhia witnessed in him the flowering and blossoming of all the highest ideals of sannyas, which he emulated throughout his life and his vision became truly cosmic in thought, word and deed.
This reflected itself in the many events and projects he initiated at Rikhiapeeth through Sivananda Math, an institution he had founded while he was in Munger, in memory of his Guru Swami Sivananda. Inspired by the mandate he had received from his Guru of Serve, Love and Give, Sivananda Math offered free assistance to the villagers of Rikhia in need of basic amenities such as food, clothing, shelter and medical care. As a natural progression of this selfless service today the villagers are also assisted in agriculture, employment and education for their children.
About his life at Rikhia Swami Satyananda has said, "Of course I have been treading the spiritual path since I was 18. I have spent more than sixty years in sadhana. There is no sadhana that I have not done and there is no scripture that I do not know by heart. Oh, I did so many things but not once did my number come up in the lottery. But after coming to Rikhia, luck smiled on me and I got the winning number. A metamorphosis took place in my life and my destiny and everything became crystal clear. That metamorphosis was spiritual and universal."
At midnight on 5th December 2009, Swami Satyananda abandoned his physical body at his Tapobhumi, Rikhiapeeth, and in the true spirit of yoga, became cosmic and universal.
About Swami Satyananda his Guru Swami Sivananda said, "Few would have such vairagya at such a young age. Swami Satyananda is full of the Nachiketa element. Yet, any work he takes on he will complete in a perfect manner. He does the work of four people and yet never complains. He is a versatile genius, yet humble and simple, an ideal sadhak and Nishkarma sevak. He is a pillar of the Divine Life mission. May God bless him with health, long life, peace, prosperity and eternal bliss."